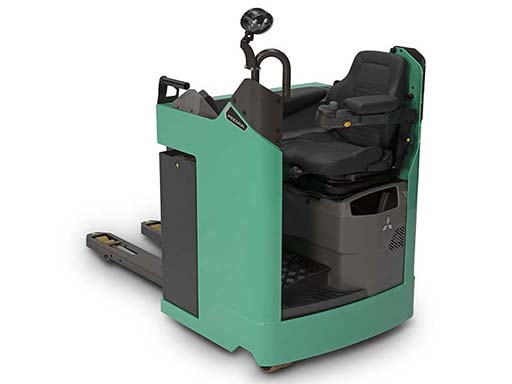 PBS20-30N2 Series
Work smarter Work safer
Power Pallet
2,0-3,0 tonn
24 Volt
AC-drift
Oppdag den PREMiA EX serien
Ideal for internal transport, production area and cross-docking applications, the 2,0–3,0-tonne PREMiA EX power pallets are a smart, safe, and cost-effective choice. With performance and throughput at such a high level, even low-intensity operations benefit from a faster ROI compared to platform power pallets.
Pedestrian and foldable-platform power pallet trucks are often the standard choice for these tasks, but due to their design, this usually comes at the cost of a higher turning radius. The sit-on design of PREMiA EX keeps the operator completely within the truck. Not only does this ensure they are protected by the chassis and optional overhead guard, the design allows for a much more compact chassis, saving floor space with an AST of 2,5 m. This means you can make much more efficient use of valuable warehouse space.
With high travel speeds, long service intervals, easy maintenance, exceptional reliability, intuitive controls, and excellent ergonomics and driver comfort, the PREMiA EX sit-on power pallet truck is the perfect choice to boost productivity.
| Modell | Kapasitet |
| --- | --- |
| PBS20N2 | 2000 kg |
| PBS30N2 | 3000 kg |
Li-ion battery
This option allows for quick charging, while minimising maintenance - avoiding the need for costly extra batteries and time-consuming changeovers. (Option)
High travel speeds
2,0-tonne models: 10 km/h with load trailing.
3,0-tonne models: 12 km/h with load trailing.
360-degree steering
Allows smooth turning without the 'pause' of a 3-point turn. It not only saves time in each and every turn - which adds up over the length of a shift - but puts less force on the load. This makes for quicker, safer, and more stable operation.
Dynamic Power Steering
A progressive steering ratio reduces the effort needed by the operator, making driving smooth and responsive. This reduces operator fatigue and improves steering precision, increasing driveability and reducing the risk of damage.
Mini steering wheel with floating armrest
This ergonomically adjustable control setup makes operating far more comfortable for the driver during long shifts. This not only minimises fatigue, keeping them more focused and productive, but reduces the risk of RSI and other strains in the neck and shoulders, a common cause of driver absence which comes with related costs.